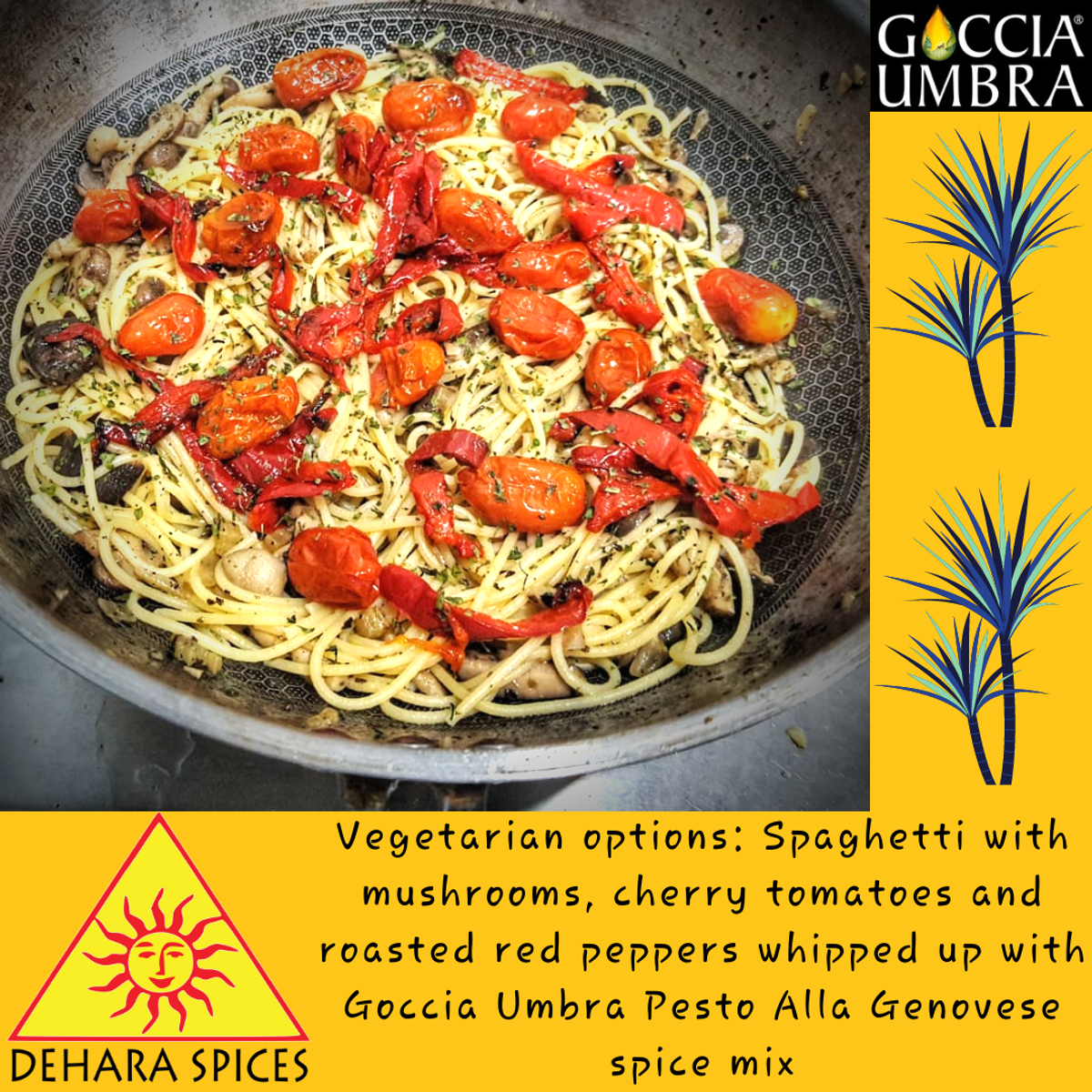 Here is a vegetarian option thats quick to make and healthy too. Great if you are also a fan of mushrooms. Just a small amount of Goccia Umbra Pesto Alla Genovese spice mix goes a long way in this recipe.
Ingredients
One medium sized onion, diced finely.
1 stalk of celery, diced finely.
1 Clove of garlic, diced finely.
1 1/2 tablespoons of Goccia Umbra Pesto Alla Genovese spice mix.
Mushrooms of your choice: in this recipe, we used some swiss browns, white and brown shimeji,and dried shitake.
A bunch of cherry tomatoes, left whole.
One red capsicum, cut into strips.
Zest and juice from 1 lemon.
Salt and pepper to taste.
Pasta of choice: here we are using 400grams of good old spaghetti.
Dried or fresh parsley.
Method
Firstly in a bowl, combine the cherry tomatoes with the capsicum and mix through with olive oil and salt. Lay over some tin foil and bake in the oven at 180 degrees for 30 minutes or till tomatoes blister and the capsicum gets sweet and caramelized.
Now let's prepare the mushrooms. Get some hot water and pour over the shitake to rehydrate them. After 5 minutes of soaking, diced them up and also the other mushrooms, Keep the water in which the shitake mushrooms were soaked in.
In some olive oil, butter and salt, cook off the mushrooms and set aside.
Now in a GENEROUS amount of olive oil, saute' the onion,celery and garlic for 2 minutes on medium heat, then lower the heat and add the Goccia Umbra Pesto Alla Genovese spice mix.
Start the pasta now, adding the dried spaghetti to boiling salted water
Saute' the spice mix for 30 seconds and then add some of the water used to soak the mushrooms in. Let this simmer for a minute and then add lemon zest and juice.
Add in the cooked mushrooms and adjust salt and pepper to taste.
Once pasta is al dente, drain and add to sauce, giving it a good mix.
Finally, garnish with the roasted cherry tomatoes and capsicum, and some parsley.
Ready to serve.