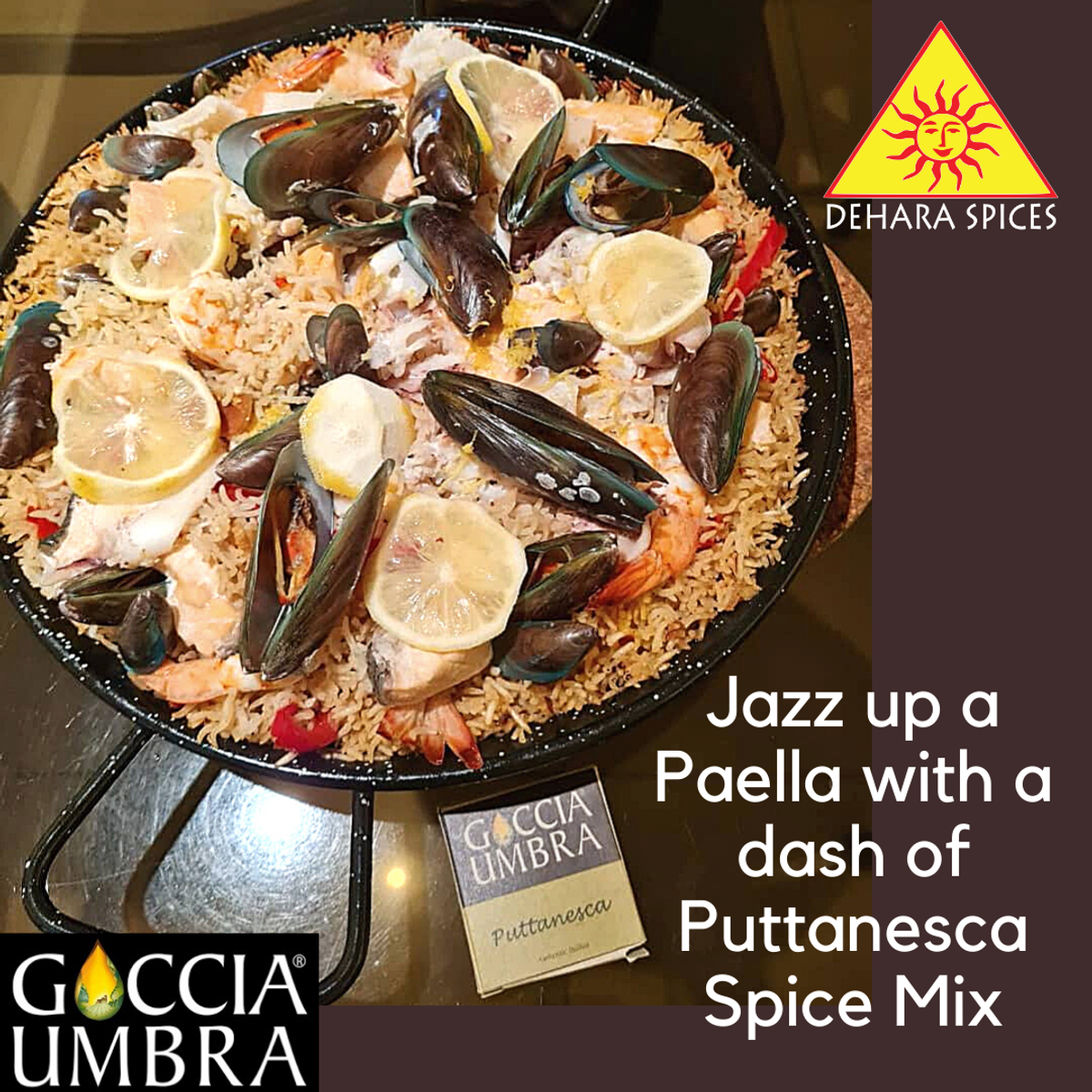 Here is a creative way to make PAELLA even more flavourful. Ideally use a paella pan if you have one, otherwise any flat-bottomed pan will do.

Ingredients

1 1/2 cups of basmati rice, washed and rinsed
1 medium sized onion and 2 cloves garlic, diced
A teaspoon of smoked paprika
Chicken or vegetable stock (3 cups)
1 can of chopped tomatoes
2 tablespoons of Goccia Umbra Puttanesca spice mix
Lemons wedges
Parsley, finely chopped
Salt and pepper to taste
Seafood of your choice; in this recipe, we have mussels, prawns and squid
A pinch of saffron

Method

Drizzle a generous amount of olive oil into the pan and fry the onions and garlic for a few minutes.
Add in the rice and stir well, then add the paprika and Goccia Umbra Puttanesca spice mix. After a minute, add the stock and the chopped tomatoes and stir well.
Season with salt and pepper, and add the saffron, which will turn the whole dish into a bright yellow colour. Allow to cook, stirring occasionally and allow the water to evaporate.
Once the rice begins to soften and the liquid has reduced by about 70%, add the seafood, beginning with squid, then prawns and finally the mussels. Just scatter the seafood evenly over the rice.
Once seafood is cooked and the water has evaporated, turn off the heat, garnish with fresh parsley and lemon wedges and let it rest for 5 minutes before serving up.