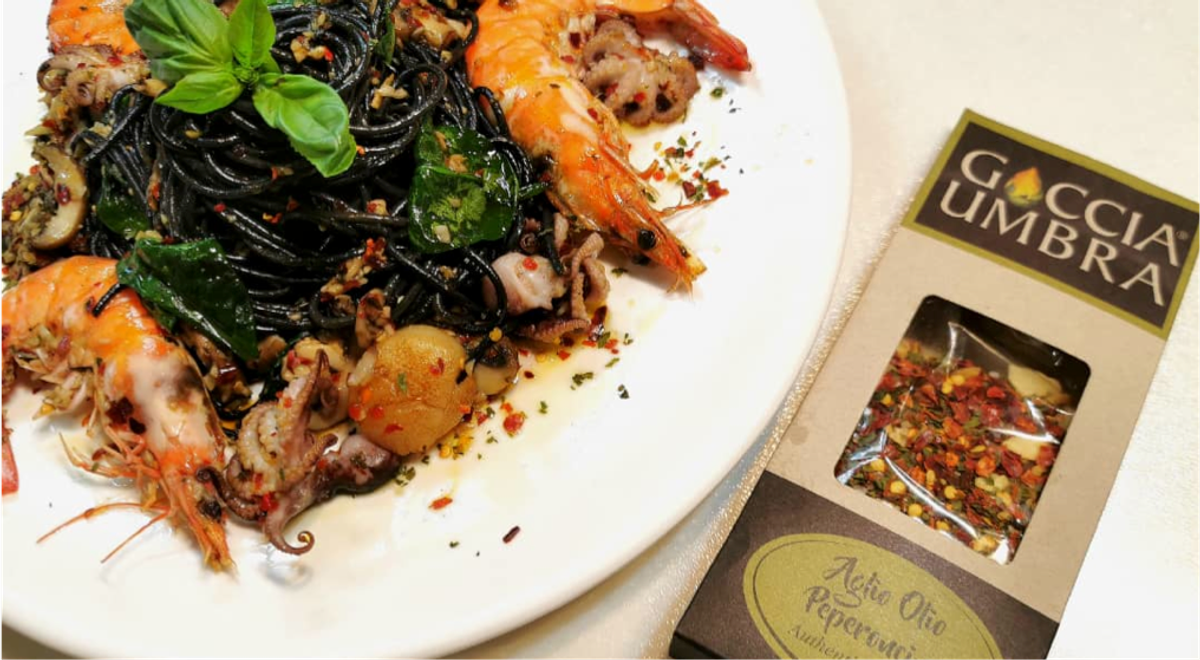 Aglio Olio pasta is a simple preparation that is very well known and really needs no introduction. This recipe however is a pimped up version of it and super decadent, both visually and in flavour. Give it a try!
Ingredients
Ingredients
1 medium sized onion, diced finely
2 cloves of garlic chopped into thin slivers
1 Tablespoon of AGLIO OLIO PEPERONCINO SPICE MIX
A few juicy and fresh tiger prawns and baby octopus (once in a while, it's great to indulge)
Some fresh basil or parsley
Dry squid ink pasta

Method
Heat generous amount of olive oil in your pan and add the diced onions
Fry for a minute till the onions turn translucent, then add the garlic and fry a further minute or so, being careful not to burn it.
Add the spice mix and stir for a minute or two.
Add salt to taste
Toss in the prawns and octopus, give it a quick stir, turn off the heat and cover. The residual heat will cook the prawns and allow the spice mix to flavor the oil, which in fact serves as the sauce.
Prepare the pasta by adding it into boiling water that's seasoned well with salt.
Once the pasta is ready, add it to the sauce, stir well, add the chopped parsley or basil and serve.