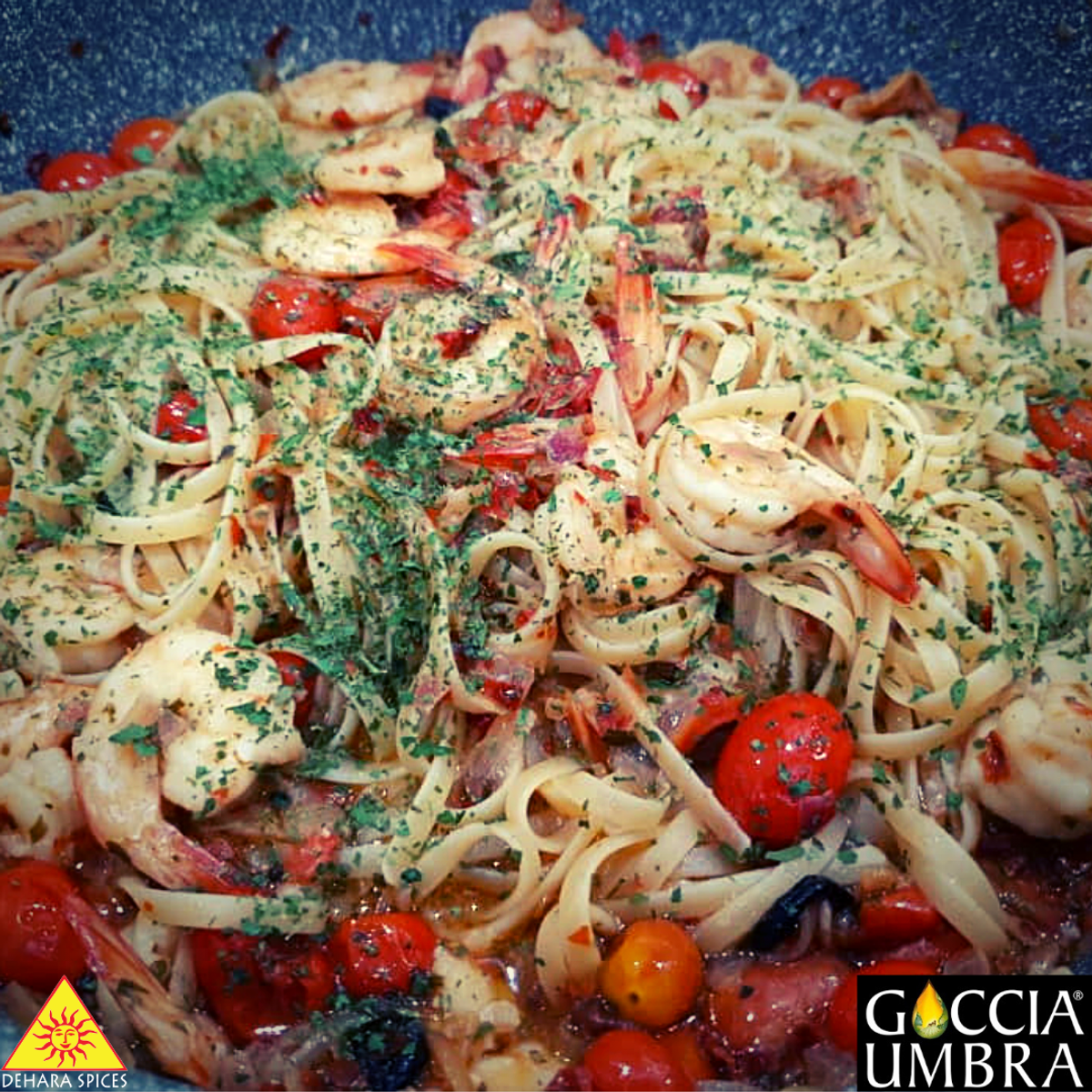 Here is another recipe using Goccia Umbra Puttanesca spice mix. Such an amazing flavour with just the right amount of spiciness. You MUST give this a try. It's so simple as the spice mix is doing most of the work for you.
Ingredients
Cherry tomatoes (1 pack)
Balsamic vinegar
One medium sized onion, diced finely
Vegetable stock (easily made by boiling onions, celery and carrots with some salt and pepper for an hour)
Lemon juice
A bunch of medium sized fresh prawns
Goccia Umbra Puttanesca spice mix
Salt and pepper to taste
Pasta of your choice, in this case linguine, about 400 grams
Fresh or dry parsley
Method
In a bowl, season the cherry tomatoes with olive oil, a tablespoon of balsamic vinegar and some salt, give it a good mix and roast it till the tomatoes just start to blister then set aside.
Prepare your pasta water, it should be on full boil and seasoned well with salt, you can toss in the linguine now.
Now for the sauce, in a generous amount of olive oil, saute' the diced onion for a minute.
Add in 2 tablespoons of Goccia Umbra Puttanesca spice mix, stir for 15 seconds and add half a cup of stock.
Allow this to simmer on low heat for 2 minutes, and then add some lemon juice and the fresh prawns.
Season with salt and pepper to taste.
You may add some stock if the sauce is too dry.
The prawns should take just a few minutes and once they are nearly cooked, add the roasted cherry tomatoes and stir well.
Once the pasta is ready, drain and add to the sauce and drizzle some extra virgin olive oil. Mix well.
Garnish with parsley and serve up.