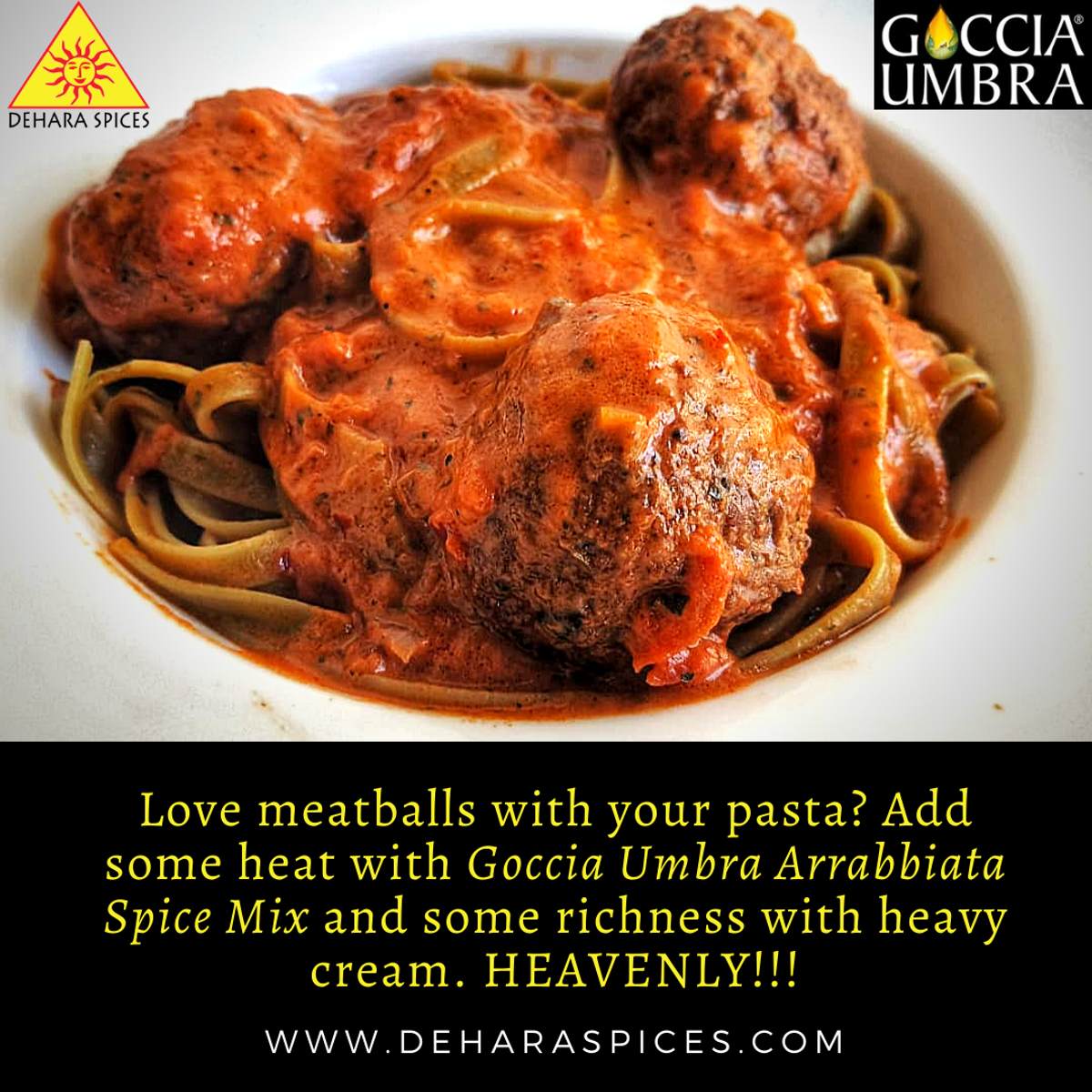 This recipe takes some effort but the results are very satisfying and indulgent.
Firstly, we have to make the meatballs. Use your choice of meat, mixing 2 different meats makes for a better meatballs and make sure there is enough fat content.
So let's do half and half of minced lamb and beef, mix together well, season with salt and pepper, add 1 egg as a binding agent, and use some breadcrumbs or flour to get the right consistency to shape your meatballs.
Once done, set aside for 30 minutes in the fridge to set. When ready to cook, in a shallow pan, fry the meatballs on medium heat till brown all over and set aside.It does not have to be cooked through as we will add it to the sauce later to finish up the cooking process.
Now lets to the sauce.
Ingredients
1 medium onion, finely diced
3 cloves of garlic, finely diced
2 large tablespoons of tomato puree
1 tablespoon of Goccia Umbra Arrabbiata Spice Mix
1 can of diced tomatoes
Cooking cream
Salt and pepper
Pasta of your choice(linguine in this case), roughly 80 grams per portion
Method
In olive oil, saute' onions and garlic on medium heat for 2 minutes
Add the tomato puree and cook for 5 minutes till the oil separates.
Lower the heat and add the Arrabbiata spice mix and cook for a minute, then add the canned tomatoes
Bring to the boil and season to taste
Allow the sauce to cook on low heat for 15 to 20 minutes, then add the meatballs to the sauce and continue to cook for another 10 minutes
Add in the heavy cream, stir well and bring it to the boil
The sauce in now ready, so toss in the al dente pasta, stir well and serve up!