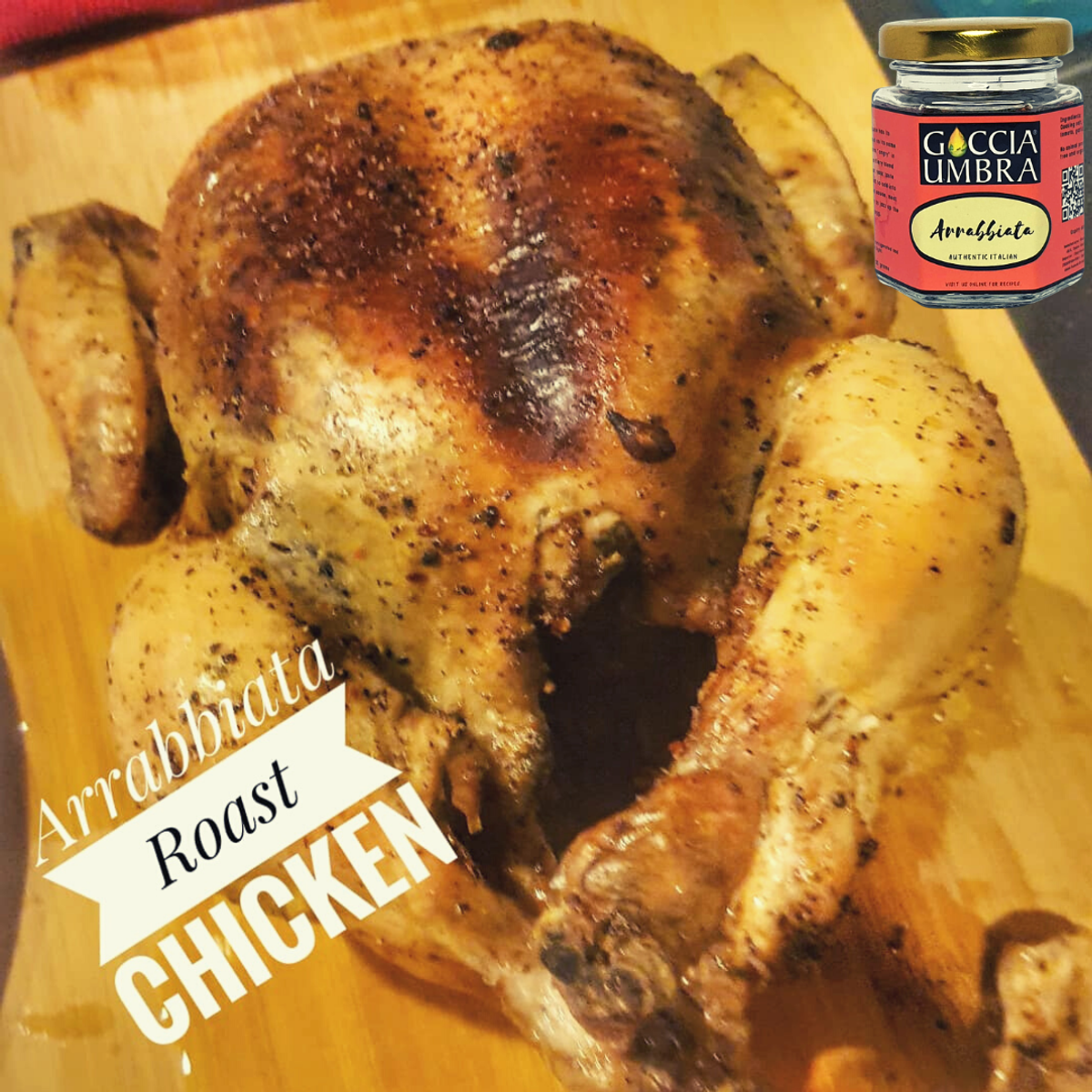 Goccia Umbra mixed Italian herbs are great as marinades for roasting meats and seafood. Just remember, the herbs need to be rehydrated before they're applied to the meat, firstly to release its flavour, and secondly to prevent them from burning.
This juicy succulent chicken recipe makes for a great Sunday dinner, and the leftover chicken is awesome the next day for making sandwiches or wraps.Ingredients
Ingredients
1 medium size chicken (1.2 - 1.5kg)
Few cloves of garlic, diced
1 small onion cut into half
Juice and zest from 1 lemon
Unsalted butter, a generous amount
Salt & pepper
Goccia Umbra Arrabbiata Spice Mix (1 or 2 tablespoons, depending on the size of chicken)
Method
Prepare the chicken by giving it a good rinse inside the cavity and out, and trim off excess fat. Pat dry the bird all over with paper towels and let it sit in the fridge to dry out while we prepare the marinade.
In a bowl, mix together the lemon juice and zest, and add Goccia Umbra Arrabbiata Spice Mix. Let this sit for a few minutes and then add the soft unsalted butter, perhaps 3 tablespoons and mix well.
Season the cavity well with salt and pepper.
Now separate the skin near the mouth of the cavity by gently slipping your finger between the skin and thigh meat. Try not to break the skin.
Take a spoonful of the seasoned butter and stuff it under the skin and gently spread it away from you. This further separates the skin and helps distribute the butter well over the breast and thigh meat.
Apply the remaining butter all over the skin.
Once done, let this marinate at least 2 hours, better if overnight.
Once ready to cook, stuff the cavity with some garlic, the chopped onions and 1/2 a lemon.
Season the outside of the chicken generously with salt and pepper.
Cover with foil, pop into oven set at 200 degrees C and cook for 40 minutes.
Now remove the foil, reduce temperature to 180 and continue cooking till the skin is nicely browned.
Once done, rest the chicken for 20 minutes before serving. It's bound to be tender and juicy. You can also use the roasting juices to make a yummy gravy to go with the chicken.